Tummy Tuck (Abdominoplasty)
What is a Tummy Tuck?
Tummy tuck surgery, medically referred to as abdominoplasty, has proven to be a very popular and effective procedure for individuals who are looking to achieve a firmer, flatter-looking abdomen. This treatment has helped millions of people get rid of excess skin in the abdominal area that is resistant to even the strictest diet and exercise routines. Dr. Eric Okamoto is an experienced, board-certified
plastic surgeon
who has performed many tummy tuck surgeries with great success. He will be happy to meet with you for an initial consultation to determine if tummy tuck surgery is the best option for your needs and goals.
What are the benefits of tummy tuck surgery?
Tummy tuck surgery is designed to eliminate excess skin along the abdomen, pull the abdominal muscles taut, and tighten the remaining skin for a smoother and flatter appearance. The most common profile for someone seeking an abdominoplasty is a mother with a bulging abdomen who has no interest in future childbearing. Other potential candidates often include either a female or male with a history of substantial weight loss that has resulted in considerable abdominal wall laxity. Both conditions usually cause three soft tissue deformities in the abdominal zone. First, the rectus abdominis muscles, commonly referred to as the "abs," become separated, leaving a gap in between. Second, skin is stretched beyond its elastic limits and is often scarred with "stretch marks." Finally, varying amounts of excess fat is distributed in varying ways on the abdominal wall. A tummy tuck can address these concerns and renew the contours of your abdomen with beautiful results.
Who is a good candidate for tummy tuck surgery?
Tummy tuck surgery can often be an ideal procedure for both men and women who would like a firmer, more fit-looking abdomen. Patients affected by loose, excess skin and fat in the abdomen, as well as lax abdominal muscles, can typically benefit from this procedure. Candidates for abdominoplasty must be in reasonably good overall health at the time of surgery. Individuals who are interested in this treatment should also understand that tummy tuck surgery is not designed to be used as a tool to lose weight; in fact, patients should be at the average weight for their body types (or in close proximity) before undergoing this procedure. When Dr. Okamoto meets with you for the initial consultation, he will evaluate your needs and determine whether tummy tuck surgery is the best option for your goals.
Tummy Tuck Vs. Liposuction
Liposuction is often performed in tandem with tummy tuck surgery to eliminate excess fat cells that have accumulated in the area. If excess fat is the only factor causing the problem, then liposuction may be the only treatment necessary. With that in mind, if the problem in the abdominal area is caused by loose, inelastic skin and laxity affecting the underlying abdominal muscles, liposuction alone will not be able to address those concerns. A tummy tuck surgery is the only procedure that can successfully tighten the muscles and redrape the skin in this area to address excess skin and lax muscles.
Full Tummy Tuck vs. Mini Tummy Tuck
Full Tummy TuckMini Tummy Tuck
Skin Elevated

Skin Removed

Muscle Repair

Scar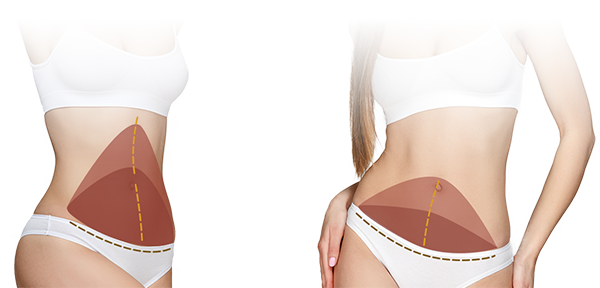 What does the tummy tuck procedure involve?
Abdominoplasties convert flabby abdomens into firmer ones with smaller waistlines because they target the three factors mentioned in the above paragraph discussing the benefits of tummy tuck surgery. The separated "abs" are brought back together, tightening the abdominal floor and frequently reducing the waistline by several inches. A great deal of the excess skin is removed. In the usual case, almost all of the skin that can be grasped between your fingers and thumbs in your lower abdomen while sitting is typically removed. Finally, the majority of the fat in the lower abdomen is removed along with the overlying skin. Limited liposuction is also performed for certain parts of the abdominal wall as a part of the procedure. It should be noted that some parts of the abdomen cannot be safely liposuctioned without risking substantial healing problems. These areas will be mentioned during the consultation. Additional liposuction for other body parts can be scheduled at the same time as the abdominoplasty, e.g. flank and hip areas, but this is performed at extra cost when requested.
Abdominoplasty is not the only option for bulging bellies. Sometimes a simple liposuction or a "modified abdominoplasty" will achieve patient expectations. Hence, a consultation is necessary to demonstrate the problems at hand and the desired goals before possible solutions can be adequately explored.
What about recovery?
Recovery for an abdominoplasty varies according to the individual, but generally, most people take about three weeks off from work. However, full or nearly full recovery for the operation can take as long as six to eight weeks. Some level of bruising and swelling can be expected as the abdominal area heals after surgery; however, discomfort during the recovery process can be controlled with medication. You should avoid strenuous physical exercise or strain in the abdominal area for at least six weeks. Dr. Okamoto will talk more with you about recovery during the initial consultation, and he will address all of your questions and concerns.
Will there be extensive scarring after tummy tuck surgery?
A full tummy tuck surgery typically involves an incision made from hip to hip, above the pubic area, as well as an incision to free the navel during the procedure. Scars from the procedure will likely fade somewhat over time, and they can usually be concealed under clothing (including swimwear). Dr. Okamoto will work diligently to minimize the appearance of scarring as much as possible.
Tummy Tuck and Pregnancy
If you are planning on getting pregnant at a future date, or if you are unsure as to whether or not you are going to have children later in life, it is recommended that you wait to have tummy tuck surgery until you have completed your family. It is technically still possible to have a perfectly normal pregnancy after tummy tuck surgery; however, a pregnancy will stretch and potentially tear the abdominal muscles and may yield another accumulation of excess skin after the baby is born. This would require another abdominoplasty in order to address those concerns. For this reason, Dr. Okamoto typically advises women to be sure they no longer plan to bear children before undergoing tummy tuck surgery.
What procedures can complement tummy tuck surgery?
If you are looking for a more comprehensive makeover, tummy tuck surgery can be combined with liposuction, breast augmentation, and other body contouring procedures. It is also a popular option to include in a Mommy Makeover procedure. Dr. Okamoto can talk with you about your ultimate goals and discuss options that may serve to address other concerns you have in addition to those that can be resolved with tummy tuck surgery.
Research Studies
For the past two years, Dr. Okamoto has been a primary investigator for two research companies that have been interested in testing the portion of the abdominal skin destined to be thrown away after a tummy tuck procedure. When patients qualify, they come to the office for two to four hours and a variety of tests are performed on their skin. Sometimes, the skin is temporarily disfigured during this process, but this is the portion of skin that will ultimately be discarded during tummy tuck surgery. Individuals who are chosen for the studies are eligible for a discount on their tummy tuck surgery. If you are interested in participating, Dr. Okamoto can talk more with you about the studies during your initial consultation.
For more information on tummy tuck surgery, or to schedule a consultation with Dr. Eric Okamoto, please contact Fremont Plastic Surgery.