What Is CoolSculpting®?

CoolSculpting is the latest innovation in non-invasive alternatives to traditional plastic surgery procedures such as liposuction. Available to both men and women, CoolSculpting utilizes patented technology that freezes fat, causing it to break down and leaving it to be metabolized and disposed of by the body's natural cleansing process.
As a safe and effective way to reduce fat in common trouble areas that have been resistant to diet and exercise, CoolSculpting has been clinically shown to reduce fat in the treated areas. This alternative to liposuction is FDA-cleared, and is the only method of non-invasive fat reduction that uses this cooling method, which is backed by research conducted in affiliation with Harvard research scientists.
What Can I Expect During the CoolSculpting® Procedure?
Our board-certified plastic surgeon, Eric Okamoto, MD, performs each and every CoolSculpting procedure to ensure the best possible results. On average, the CoolSculpting treatment takes approximately one to two hours per treated area. Because of the non-invasive nature of the procedure, patients are able to rest and relax, check email, or read while undergoing treatment. With minimal discomfort and usually no downtime, patients are able to resume their daily activities immediately following the procedure.
Results from CoolSculpting can typically be seen within three weeks, with the most dramatic results typically developing about two months after the treatment. There is no need for special dietary supplements or exercise programs, and results can be long-lasting and sustainable with the pursuit of a healthy lifestyle.
CoolSculpting® Video
Watch a video demonstrating the CoolSculpting process on fat cells:
What Areas Can Be Treated with CoolSculpting®?
What areas can be treated with CoolSculpting®?
Love handles (flanks)
Hips
Abdomen
Lower back
Thighs
Bra area
Underarm areas
Armpits
CoolSculpting has proven to be an exceptional tool to help patients with isolated pockets of excess fat in specific body areas. This innovative technique can ultimately work to reduce stubborn areas of fat that have proven challenging to get rid of on one's own. That said, with the many advantages offered by CoolSculpting, it's important to note that this procedure is not designed to be a weight loss treatment. The most ideal candidates for CoolSculpting are typically those who are at or close to the average weight for their bodies.
Once you come in for your initial consultation with Dr. Okamoto, he will evaluate your needs and answer your questions about CoolSculpting. If this treatment is the right option for your goals, Dr. Okamoto can formulate a treatment plan designed to address your concerns with successful results.
CoolSculpting® vs. Liposuction
CoolSculpting and liposuction both have the same objective: to reduce excess fat in specific body areas. Even so, there are a number of distinctions between these procedures that can make one more beneficial than the other, depending on your unique needs. One of the major differences is the fact that CoolSculpting involves no surgery of any kind, while liposuction is a surgical procedure. CoolSculpting can often be ideal for mild to moderate levels of excess fat in certain regions, while liposuction may be the better option for larger and more significant amounts of excess fat. Each of these treatments has its own set of benefits, and each offers an effective solution for the right patient. Dr. Okamoto will examine you during the initial consultation and help you determine which may be the better option for your needs and goals.

1. Many of us have stubborn fat despite diet and exercise.
2. CoolSculpting® technology uses controlled cooling to target and kill only these fat cells.
3. In the weeks to follow, your body naturally processes the fat and eliminates these dead cells.
4. CoolSculpting® procedure results are long-term, 1 as treated fat cells are gone for good.
Reference: 1. Data on file. Allergan.
As a longtime patient, I can say with all the confidence in the world that Dr. Okamoto is an exceptional surgeon and physician. His meticulous nature yields beautiful results and his quiet demeanor is both calming and reassuring. I've recently had Coolsculpt, a procedure that freezes fat cells, and I love the results so much that I've already booked another session for a different area of my body!
CoolSculpting® for Women
Women often come to Fremont Plastic Surgery hoping to reclaim their figures and regain the confidence they once had in their bodies. CoolSculpting allows our plastic surgeon, Dr. Eric Okamoto, to address common trouble spots for women, including love handles that seem impossible to get rid of.
Following the procedure, many of Dr. Okamoto's female patients have found that their jeans fit better, their favorite dress accentuates their curves and flatters their bodies the way it used to, and they return to the "skinny" area of their closets.
CoolSculpting® for Men
Dr. Okamoto's male patients find CoolSculpting presents a no-hassle, surgery-free option to reduce fat in common problem areas that stick around regardless of the number of crunches they do at the gym.
The procedure is discreet and can help men get rid of that spare tire and love handles that have gradually shown up over the years. With CoolSculpting, Dr. Okamoto hopes to help his male patients feel more confident shirtless on the beach or by the pool, and help them regain their confidence and stop the need for more notches in the belt.
When Will CoolSculpting® Results Appear?
The average timeframe for CoolSculpting results to be most apparent is two to four months after the initial treatment. Since this technique is designed to help the body gradually filter out the targeted fat cells, the results should continue to improve as metabolic processes eliminate the excess fat over the ensuing months. In fact, some patients continue to experience the results of CoolSculpting even six months after the first treatment.
While some individuals may need only one treatment session to achieve their goals, others may require a series of CoolSculpting treatments for the best results. During your initial consultation, Dr. Okamoto will be able to determine whether you may need more than one treatment session to attain the outcome you desire. For patients who will need multiple CoolSculpting procedures, Dr. Okamoto recommends spacing the sessions one to three months apart. The timing depends upon the goals set forth during the consultation.
Before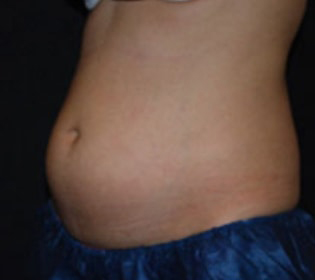 After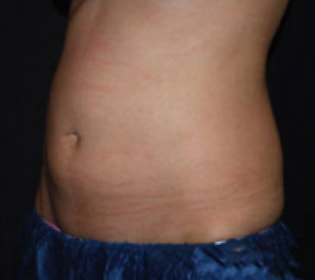 Before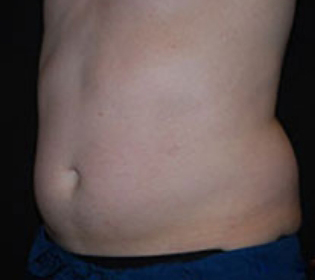 After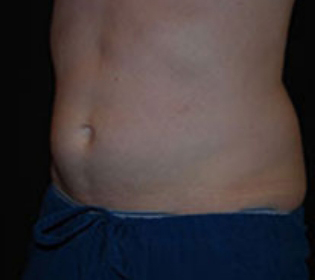 </div
Are There Any CoolSculpting® Side Effects?
Patients may experience some level of pinching and tingling, followed by a feeling of numbness, in the areas targeted for treatment during the CoolSculpting® procedure. After the treatment session, some redness, bruising, irritation, numbness, and swelling can be expected in those areas; however, these effects should only be temporary. Most patients can return to normal daily routines immediately following the CoolSculpting procedure.
Is CoolSculpting® Safe?
Since CoolSculpting does not involve surgery or anesthesia, many of the risks that are associated with more invasive cosmetic enhancement procedures are significantly minimized. With that in mind, there are still some risks involved with CoolSculpting treatment. Patients who have skin that is extremely sensitive to cold temperatures, or individuals with a history of conditions such as cold agglutinin disease, cryoglobulinemia, or paroxysmal cold hemoglobulinuria, should not undergo this treatment. Dr. Okamoto will carefully review your medical records and take all necessary precautions to reduce risks and maximize your safety during the CoolSculpting procedure.
How Long Does CoolSculpting® Last?
The effects of CoolSculpting can last extraordinarily long periods of time. As long as patients are able to maintain a healthy diet and exercise regimen to prevent significant additional weight gain, CoolSculpting results can typically be enjoyed well into the future.
Additional Frequently Asked Questions About CoolSculpting®
Does CoolSculpting® hurt?
The precise nature of the CoolSculpting treatment experience is often different for each patient; however, most individuals usually feel a mild to moderate tingling or pinching sensation during the treatment before a feeling of numbness sets in. Once that occurs, it's typically easier for patients to relax throughout the rest of the CoolSculpting® procedure.
Can CoolSculpting® treat gynecomastia?
In certain cases, CoolSculpting® may be able to effectively treat mild degrees of gynecomastia, which is a condition that produces enlarged breasts in men. However, it is important to note that CoolSculpting® can only be effective for gynecomastia if it is caused by excess fat in the breasts, rather than excess glandular tissue. Patients who have more severe degrees of excess fat and those with conditions that are caused by excess glandular tissue may be better candidates for gynecomastia treatment with male breast reduction techniques such as liposuction or tissue extraction. Dr. Okamoto can evaluate your needs during the consultation and help you determine the best option.
Is CoolSculpting® covered by insurance?
CoolSculpting is typically considered an elective cosmetic procedure and will therefore not likely be covered by insurance policies. Fortunately, our practice accepts numerous payment methods, including CareCredit® financing for qualified applicants, that can make this treatment as financially convenient as possible for many patients.
How old do you have to be to get CoolSculpting®?
While there is technically no established age restriction for CoolSculpting, we typically only perform this treatment for patients who are at or above the age of 18 and who are determined to be good candidates upon evaluation.
What about "do-it-yourself" fat freezing at home?
CoolSculpting utilizes an advanced controlled-cooling technique called Cryolipolysis™, which can produce a safe and effective fat reduction procedure only when applied by appropriately trained and qualified CoolSculpting® providers in a medical setting. While there may be websites or other popular publications that claim to offer guidance on at-home, "do-it-yourself" fat freezing and reduction treatments, please remember that trying to freeze body fat via self-managed cooling techniques will likely result in a process that is very difficult to control, not likely to produce effective results, and, most importantly, can be extremely dangerous without supervision from a qualified physician. Using a "DIY" fat freezing technique can lead to extraordinary risks and serious consequences, including severe pain, frostbite, and permanent damage to the tissue. CoolSculpting® is a clinically-tested technique designed to avoid harming surrounding tissues when performed by a skilled medical professional.
For more information, or to schedule a consultation with Dr. Okamoto, please contact our practice.