Skip to main content
Buttock Augmentation With Fat Transfer
Over recent years there has been an obvious growing interest among many individuals for shapelier buttocks. For those unhappy with the fullness of their buttocks, our experienced plastic surgeon, Dr. Eric Okamoto, performs buttock augmentation with fat transfer, sometimes referred to as a "Brazilian Butt Lift." This procedure takes fat that is harvested from other areas of the body – such as the flanks, hips, or abdomen – and then transfers it into the buttocks for a natural-looking augmentation result. By utilizing a patient's own fat, multiple variations can be flexibly augmented to the individual's needs and desires. This method provides more options to naturally reshape the buttocks than silicone implants, an operation that Dr. Okamoto does not offer. Brazilian Butt Lift surgery can ultimately provide effective and long-lasting enhancement to the buttocks, producing an appearance that looks more contoured, shapely, and defined.
How Is the Brazilian Butt Lift Procedure Performed?
It is important to understand that a buttocks fat transfer is actually a dual operation since it requires (a) fat removal from one part of the body and (b) reinjecting the harvested fat into the buttocks. The most common fat donor sites, in order of decreasing importance, are the hips, flanks, back, and abdomen. Hopefully these areas provide enough fat to recontour the buttocks into the desired shape. As the fat is transferred to the buttocks, it is of paramount importance that the fat can only be injected superficial to the buttocks' muscles for safety reasons. Since the only appropriate layer of tissues that can receive fat is between the skin and muscle, this necessarily means that there is a limited size for which the buttocks can be augmented. All of this will be carefully explained during the initial consultation with Dr. Okamoto. 
Featured Cases
Before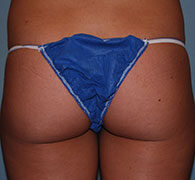 After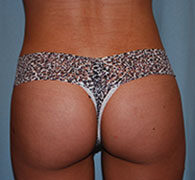 Before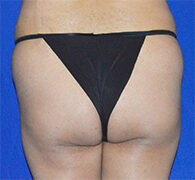 After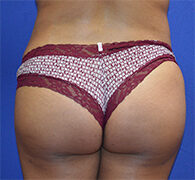 For more information about buttock augmentation with fat transfer, please contact us to schedule your consultation with Dr. Okamoto.
*Individual results may vary