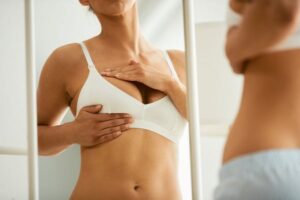 Breast sagging, or breast ptosis, affects most women at some point in their lives and can be caused by a variety of factors. At Fremont Plastic Surgery, our plastic surgeon Eric Okamoto, MD, is extensively experienced in providing solutions for women who would like to reverse signs of breast sagging or drooping that have developed over time.
Some degree of breast sagging is often unavoidable for most women as they age. The primary causes of sagging in the breasts can include the loss of skin elasticity during the natural aging process, fluctuations in weight, pregnancy, breastfeeding, insufficient bra support, large or heavy breasts, smoking, and excessive amounts of UV exposure. Some of these causes can be mitigated, but others cannot be prevented.
There are various procedures that can improve signs of sagging and drooping breasts. Options for treating breast ptosis include:
Breast Lift: For many women, the best treatment for breast ptosis is a traditional breast lift. This surgical procedure removes excess tissue, tightens the remainder, and moves the breasts to a higher area of the chest. Breast lift surgery can be ideal for restoring the breasts to a more youthful and vibrant position.
Breast Lift With Implants: Combining the effects of a breast lift with the results of breast implants may be the right solution for patients who would like to reduce signs of breast ptosis as well as add volume to the breasts. A breast lift with implants can achieve the same results of a traditional lift with many added bonuses. By using silicone or saline breast implants in conjunction with the breast lift, patients can also enjoy benefits that include enhanced volume, size, shape, and firmness.
Breast Reduction: For individuals who suffer from excessively large, pendulous breasts that are simply too big for their body frame, a breast reduction may be the recommended option. Reducing the size of the breasts can often relieve back and neck pain, as well as restore one's self-confidence about their appearance. It can also address sagginess by removing excess breast tissue, fat, and skin, which can ultimately lead to firmer, more youthful-looking breasts.
If you would like to know more about what causes breast sagging or how these concerns can be remedied, contact our practice today with any questions you may have, or to schedule a consultation with Dr. Okamoto.