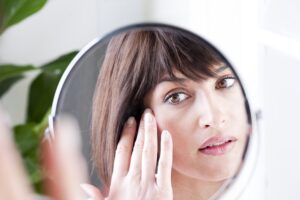 As we age, it is not uncommon to experience areas of discoloration on the face. Sometimes referred to as "age spots" or "sun spots," this type of hyperpigmentation can often be the result of genetics or an overexposure to the sun. Although these spots are usually harmless and can be covered with makeup, they can still be frustrating. To help remove signs of them and create a more even complexion, Dr. Okamoto offers a variety of skincare treatments at our med spa. In the event of more stubborn spots, he may recommend laser skin resurfacing to help rejuvenate the skin and reduce the appearance of more severe hyperpigmentation.
Laser skin resurfacing is also capable of addressing a variety of other skin concerns, such as wrinkles, enlarged pores, and acne. Following laser treatment, patients typically see continued improvement in their skin's tone and texture due to collagen reproduction that has been stimulated as a result of the laser energy. Depending on your concerns, Dr. Okamoto may recommend a series of laser skin treatments to achieve your desired results. To help maintain the effects of laser skin resurfacing and avoid further sun damage, Dr. Okamoto recommends wearing a daily sunscreen and protecting your skin from the sun as much as possible.
While laser skin therapy is generally considered the best and most effective way to reduce the appearance of stubborn age spots on the face, it may not be the most ideal option for all patients. In these cases, Dr. Okamoto may recommend other advanced skincare treatment options that can serve as effective alternatives. To learn more about your options and find the best treatment (or combination of treatments) for your specific concerns, contact us today to schedule a consultation with Dr. Okamoto.