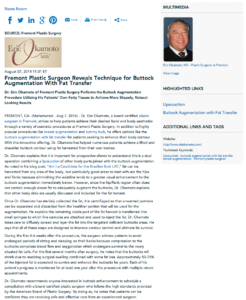 Dr. Eric Okamoto of Fremont Plastic Surgery performs the buttock augmentation procedure utilizing his patients' own fatty tissues to achieve more shapely, natural-looking results.
Fremont, CA – Dr. Eric Okamoto, a board-certified plastic surgeon in Fremont, strives to help patients achieve their desired facial and body aesthetics through a variety of cosmetic procedures at Fremont Plastic Surgery. In addition to highly popular procedures like breast augmentation and tummy tuck, he offers options like the buttock augmentation with fat transfer for patients seeking to enhance their body contour. With this innovative offering, Dr. Okamoto has helped numerous patients achieve a lifted and shapelier buttock contour using fat harvested from their own bodies.
Dr. Okamoto explains that it is important for prospective clients to understand this is a dual operation combining a liposuction of other body parts joined with the buttock augmentation. As noted in his blog post, "Am I a Candidate for the Brazilian Butt Lift?," fat can be harvested from any area of the body, but particularly good areas to start with are the hips and flanks because diminishing the waistline lends to a greater visual enhancement to the buttock augmentation immediately below. However, since the hip/flank region often does not contain enough donor fat to adequately augment the buttocks, Dr. Okamoto explains that other body sites are usually discussed and included for the fat harvest.
Once Dr. Okamoto has sterilely collected the fat, it is centrifuged so that unwanted portions can be separated and discarded from the healthier portion that will be used for the augmentation. He explains the remaining viable part of the fat harvest is transferred into small syringes to which fine cannulas are attached and used to inject the fat. Dr. Okamoto takes care to diffusely spread and layer the fat into the targeted deficient buttocks areas. He says that all of these steps are designed to improve contour control and ultimate fat survival.
During the first 4-6 weeks after the procedure, the surgeon advises patients to avoid prolonged periods of sitting and sleeping on their backs because compression to the buttocks comprises blood flow and oxygenation which endangers survival to the newly situated fat cells. For the first several months after surgery, he notes that the buttocks will shrink due to resolving surgical swelling combined with some fat loss. Approximately 50-75% of the injected fat is expected to survive and enhance the buttocks for years. Each of his patient's progress is monitored for at least one year after the procedure with multiple return appointments.
Dr. Okamoto recommends anyone interested in buttock enhancement to schedule a consultation with a board-certified plastic surgeon who follows the high standards provided by the American Board of Plastic Surgery. By doing so, he notes that patients can be confident they are receiving safe and effective care from an experienced surgeon.
About Eric Okamoto, MD
Dr. Okamoto attended medical school at the University of California, Los Angeles and continued on to the University of Wisconsin, Madison to train in plastic surgery. He is a board-certified plastic surgeon as well as a board-certified otolaryngologist (ear, nose, and throat). To stay active in the surgical community, Dr. Okamoto is a member of numerous professional organizations, including the American Society of Plastic Surgeons, the American Society for Aesthetic Plastic Surgery, and the American Society of Bariatric Plastic Surgeons.
For more information about Fremont Plastic Surgery, visit drokamoto.com and facebook.com/drokamoto.
Contact:
Fremont Plastic Surgery
39380 Civic Center Drive, Suite B
Fremont, CA 94538
(866) 514-7155
Rosemont Media
[email protected]
(858) 200-0044
www.rosemontmedia.com