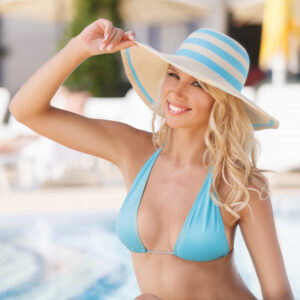 Two of our most popular procedures are breast lift surgery and breast augmentation. Both offer patients a unique way to transform the appearance of their breasts for a result that looks both natural and beautiful. Our Fremont plastic surgeon, Dr. Eric Okamoto, encourages his patients to learn more about each procedure to see which may help meet their cosmetic goals.
To add fullness and volume to the breasts with saline or silicone breast implants, patients may consider a breast augmentation procedure. This cosmetic surgery is designed to help resize and reshape the breasts. Breast augmentation can be beneficial for women who have always been unhappy with the size of their breasts, as well as for individuals who have lost a significant amount of breast volume after pregnancy, breastfeeding, or weight loss.
If your breasts are sagging, carry excess skin, and/or appear to be "drooping", breast lift surgery can be a beneficial option. Weight loss, pregnancy, and the natural effects of aging and gravity can all contribute to inelastic skin in the breasts. A breast lift procedure can eliminate sagging skin, tighten the remaining skin, move the nipples to a higher location, and lift the breasts into a perkier, more youthful position.
Both of these procedures on their own have unique features to help women achieve their goals. For women who would like to address a loss in breast volume and a sagging or drooping appearance, a breast lift with implants procedure may be the best option.
Dr. Okamoto is available to meet with you for a personal consultation to discuss your needs, review your medical history, and conduct a brief breast examination to offer his advice. In your consultation, you are encouraged to ask any questions you may have. Dr. Okamoto will explain all aspects of the procedures you are considering and help you determine the ideal treatment for your goals.
For more information, or to schedule an appointment, please contact us today.