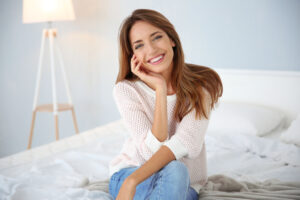 There are many reasons our patients choose to have breast lift surgery. The most common cases are when the appearance of the breasts has noticeably changed due to pregnancy, weight fluctuation, and/or aging. If you are unhappy with the shape, location, or firmness of your breasts and wish to make a cosmetic change, this procedure could help. The following questions can aid in determining your candidacy:
Are your breasts less firm?
Have they become asymmetrical?
Have you noticed one breast drooping lower than another?
Have your breasts lost significant volume?
Have they changed in shape, size, or position?
Do you notice excess skin or "sagginess" in the breasts?
Have any changes in your breasts affected your confidence?
If you have answered yes to any of these questions, it may be an ideal time for a breast lift surgery. We recommend scheduling a consultation with our Fremont plastic surgeon, Dr. Eric Okamoto, to learn more about the procedure.
In your consultation, Dr. Okamoto will perform a thorough examination of your breasts and review your medical history. After discussing your concerns and the results you wish to achieve, Dr. Okamoto can develop a custom treatment plan. If you wish to increase the size of your breasts in addition to giving them a firmer, "perkier" appearance, our breast lift with implants procedure may be the best option to help you achieve your aesthetic goals.
While the best time to undergo a breast lift surgery is dependent on each individual's needs and desires, we do recommend to our patients that they have this surgery after completing their families. This is due to changes the body undergoes during pregnancy and breastfeeding that can affect the results of a breast lift.
Breast lift surgery can renew the breasts with natural-looking results that appear more youthful and vibrant. To schedule your consultation or to ask any questions you may have, please contact us today.