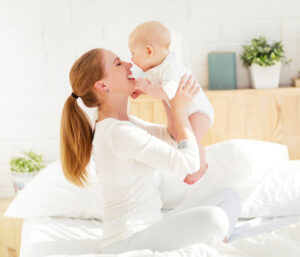 Oftentimes, many women who have had a child experience a sense of discontent with the appearance of their post-pregnancy figure. Most commonly, these frustrations stem from how their abdomen changed during their pregnancy. A tummy tuck can address this area of concern by: eliminating excess skin along the abdomen, pulling muscles taut, and tightening the remaining skin.
For women who believe they would benefit from a tummy tuck, we suggest scheduling a consultation with our board-certified plastic surgeon, Dr. Eric Okamoto. During your consultation, Dr. Okamoto will listen to your cosmetic goals, ask about any plans you have to grow your family, and create a custom treatment plan tailored to your specific needs. If you plan on becoming pregnant after having your abdominoplasty, Dr. Okamoto will likely advise you to wait until you have completed your family before undergoing the procedure.
When a patient becomes pregnant after a tummy tuck has been performed, the results are often compromised. During pregnancy, the abdominal muscles will likely be pulled, and possibly torn. The abdominal skin will also be stretched, typically becoming loose after giving birth, essentially reversing the outcome from the abdominoplasty. Ultimately, a revisional tummy tuck surgery may be necessary to restore the initial results.
Dr. Okamoto and our staff at Fremont Plastic Surgery will be happy to talk with you about your goals and explore your options. If you have questions, or if you would like to schedule a consultation with our plastic surgeon, please contact us today.