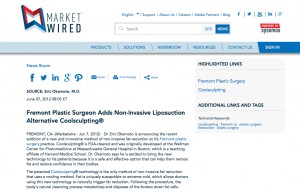 Fremont, CA — Dr. Eric Okamoto is announcing the recent addition of a new and innovative method of non-invasive fat-reduction at his Fremont plastic surgery practice. Coolsculpting® is FDA-cleared and was originally developed at the Wellman Center for Photomedicine at Massachusetts General Hospital in Boston, which is a teaching affiliate of Harvard Medical School. Dr. Okamoto says he is excited to bring the new technology to his patients because it is a safe and effective option that can help them reduce fat and restore confidence in their bodies.
The patented Coolsculpting® technology is the only method of non-invasive fat reduction that uses a cooling method. Fat is uniquely susceptible to extreme cold, which allows doctors using this new technology to naturally trigger fat reduction. Following the procedure, the body's natural cleansing process metabolizes and disposes of the broken down fat cells.
Dr. Okamoto says the Coolsculpting® procedure takes roughly one to two hours per treated area, and adds that most patients are able to rest, check emails, or read throughout the entire process. With minimal discomfort and minimal to no downtime, the Fremont plastic surgeon says most patients should be able to return to daily activities immediately. Results can be seen in as little as three weeks, though Dr. Okamoto says the full impact of the procedure is typically noticed after two months.
When diet and exercise alone have not been enough to achieve the aesthetic appearance his patients desire, Dr. Okamoto says cosmetic procedures such as liposuction and now Coolsculpting® have been able to help patients reach their goals. While the liposuction alternative is currently only offered by a handful of doctors across the US, as more patients undergo Coolsculpting® in Fremont and around the country, he expects the popularity of the procedure to continue to increase.
About Eric Okamoto, MD
Following his graduation from Stanford University and UCLA, Dr. Eric Okamoto completed his first specialty training fellowship in Otolaryngology. He then completed his plastic surgery training at the University of Wisconsin in Madison, and was then certified by the American Board of Plastic Surgery. Dr. Okamoto is a member of the American Society of Plastic Surgeons and the American Society for Aesthetic Plastic Surgery.
Fremont Plastic and Cosmetic Surgery is located at 39380 Civic Center Dr., Suite B, Fremont, CA 94538, and can be reached at (866) 514-7155. Dr. Okamoto and his team can also be contacted via his website drokamoto.com and the Fremont Plastic Surgery Facebook page.