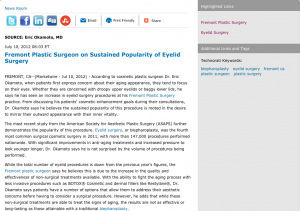 Fremont, CA — According to cosmetic plastic surgeon Dr. Eric Okamoto, when patients first express concern about their aging appearance, they tend to focus on their eyes. Whether they are concerned with droopy upper eyelids or baggy lower lids, he says he has seen an increase in eyelid surgery procedures at his Fremont Plastic Surgery practice. From discussing his patients' cosmetic enhancement goals during their consultations, Dr. Okamoto says he believes the sustained popularity of this procedure is rooted in the desire to mirror their outward appearance with their inner vitality.
The most recent study from the American Society for Aesthetic Plastic Surgery (ASAPS) further demonstrates the popularity of this procedure. Eyelid surgery, or blepharoplasty, was the fourth most common surgical cosmetic surgery in 2011, with more than 147,000 procedures performed nationwide. With significant improvements in anti-aging treatments and increased pressure to look younger longer, Dr. Okamoto says he is not surprised by the volume of procedures being performed.
While the total number of eyelid procedures is down from the previous year's figures, the Fremont plastic surgeon says he believes this is due to the increase in the quality and effectiveness of non-surgical treatments available. With the ability to fight the aging process with less invasive procedures such as BOTOX® Cosmetic and dermal fillers like Restylane®, Dr. Okamoto says patients have a number of options that allow them to address their aesthetic concerns before having to consider a surgical procedure. However, he adds that while these non-surgical treatments are able to treat the signs of aging, the results are not as effective or long-lasting as those attainable with a traditional blepharoplasty.
Due to the widespread increase in popularity of all cosmetic enhancements in general, Dr. Okamoto says he urges anyone considering a procedure such as eyelid surgery to consult with a board-certified cosmetic plastic surgeon. By doing so, he says patients not only increase the likelihood of achieving their cosmetic enhancement goals, but also place their safety in the hands of an experienced and tested surgeon.
About Eric Okamoto, MD
Dr. Eric Okamoto earned his medical degree from the UCLA, and then completed his first specialty training in Otolaryngology. He then completed his plastic surgery training at the University of Wisconsin, Madison, before opening his private plastic surgery practice in 1983. Dr. Okamoto is a member of the American Society of Plastic Surgeons, the American Society for Aesthetic Plastic Surgery, the American Medical Association, and the California Medical Association.
Located at 39380 Civic Center Dr., Suite B, Fremont, CA 94538, Fremont Plastic and Cosmetic Surgery can be reached at (866) 514-7155. Dr. Okamoto and his team can also be contacted through his website drokamoto.com, and the Fremont Plastic Surgery Facebook page.