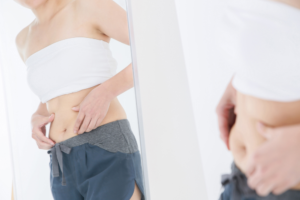 One of the most frustrating things about a collection of excess, sagging skin in the abdominal region is that it often simply won't respond to even the strictest diet and exercise regimens. This is a very common concern, and it can affect just about anyone—even those who are in tip-top health and excellent physical condition. Fortunately, there is a solution that can successfully reduce sagging abdominal skin and create a firmer, flatter appearance in this area. Tummy tuck surgery, medically referred to as abdominoplasty, is a procedure that can eliminate loose, excess skin, tighten the underlying abdominal muscular wall, and reduce excess abdominal fat. This treatment can ultimately recontour the abdomen and address what cannot be improved by diet and exercise alone.
Weight loss, pregnancy, and other factors can contribute to a build-up of excess skin in the abdomen. Tummy tuck surgery is a very effective procedure that can resolve the condition, and it is popular among both women and men. Dr. Eric Okamoto offers two different tummy tuck options: the full tummy tuck and the mini-tummy tuck for patients who may have less severe degrees of excess abdominal skin. Although liposuction alone will not sufficiently correct situations where excessive abdominal wall skin exists, it is usually discussed as part of a complete consultation. These treatments have helped many individuals reshape their abdomens and feel more confident about their appearance.
In addition, tummy tuck surgery is a popular choice for women to include in a Mommy Makeover, which is a procedure that combines a number of aesthetic enhancement options for comprehensive body rejuvenation. Our board-certified plastic surgeon can meet with you for an initial consultation and evaluate your needs to determine if tummy tuck surgery is right for your goals.
If you would like more information, or if you would like to schedule a consultation to talk about our available treatment options, please contact us today.