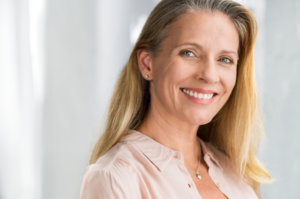 Facelift and browlift surgery are two of the most common surgical cosmetic enhancement procedures available, and have helped both women and men significantly renew their facial aesthetic with results that take years off their appearance. With that in mind, it's important to note that these two treatments have numerous distinctions.
The most significant difference between these advanced aesthetic enhancement procedures is that the facelift is designed to address the middle and lower areas of the face, while the browlift is focused on improving the upper third of the face. It is a common misconception that facelift surgery can rejuvenate the entire facial aesthetic, including the upper facial areas such as the eyes, brows, and forehead. While facelift surgery can reduce the appearance of jowls, tighten the skin on the mid- to lower face and neck region, and diminish common signs of age in these areas, it does not address the upper facial features.
By contrast, a browlift is typically the right option to improve signs of a descended brow, furrows and lines between the eyebrows, and creases along the forehead. For patients with excess skin and signs of age and exhaustion that have developed around the eyes, an eyelid surgery may be the best choice for these concerns. However, browlifts always improve the upper eyelid areas to a certain extent and at times this is enough to eliminate the need for upper eye surgery.
During your initial consultation with Dr. Eric Okamoto, our board-certified plastic surgeon will perform a comprehensive evaluation of your skin and talk with you about your goals. He can help you determine which facial enhancement procedure is the most ideal for your needs. For patients who would like to address concerns affecting all facial areas, a combination of these procedures or other options available at our practice may be the right selection. All treatments at our practice are completely customized for your unique needs in order to provide natural-looking results that can meet your expectations.
Please contact us today for more information, or to schedule a consultation.