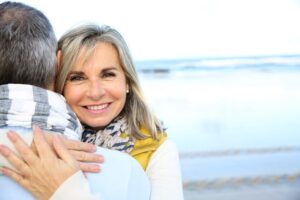 The ever popular facelift can be an ideal option for those seeking to reverse significant signs of aging. Yet, it is important to note that this treatment is designed for specific aesthetic concerns in the lower area of the face and the upper neck. It may not be the best procedure for concerns in other facial areas, and some patients may not need a full facelift to achieve their goals. With over three decades of experience performing procedures such as facelift and many others, our board-certified plastic surgeon, Dr. Eric Okamoto, can help you better understand the signs and cosmetic concerns that can be the right fit for a facelift.
To begin, one of the most common misconceptions about facelift surgery is the "best" age to undergo the procedure. Although a typical age range is in the 40s to 60s, an experienced surgeon will base their recommended treatment, for a facelift or otherwise, on an evaluation of the specific individual. Each person may show signs of aging earlier or later in life, which can be a result of genetics, lifestyle, daily habits, or other factors, so there is no magical number to determine an ideal candidate. Overall, for women and men concerned about the following issues, a facelift might be a treatment option to consider:
Substantial signs of inelastic (sagging) skin, deep wrinkles, and pronounced lines and creases in the middle to lower face and neck areas 
Drooping skin and/or volume loss below the chin or jawline
Excess fat, lax skin, and weakened muscles causing what's sometimes referred to as a "turkey neck" appearance
Alternative facial treatments (such as injectables or skin care products) no longer seem to be working as effectively 
Ultimately, scheduling an appointment to discuss your concerns and review the condition of your skin and health history is the only way to truly know if a facelift is right for you. If you are not an ideal candidate for facelift surgery, or if you would rather explore alternative options, Dr. Okamoto offers a full selection of other procedures, including minimally invasive treatments such as a "non-surgical facelift", which combines injectables, skin resurfacing, and ultrasound tightening and lifting to create a more youthful, refreshed appearance. He can evaluate your needs and determine whether a facelift or other treatment is capable of accomplishing your goals. 
For more information about facial rejuvenation procedures and treatments, or to schedule a cosmetic consultation with Dr. Okamoto, please contact us today.