In part one of our series on non-surgical cosmetic enhancement, Dr. Eric Okamoto answered questions on some of the more ideal options for specific aesthetic concerns and talked about what patients can expect during recovery from laser skin resurfacing. Today, Dr. Okamoto offers recommendations on dermal fillers and some more advice on laser therapy:
Dermal Fillers
What dermal fillers do you recommend for fuller lips and natural-looking lip enhancement?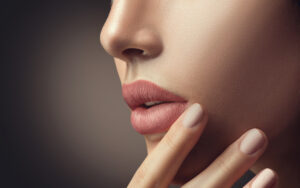 Of the variety of options that are used to enhance lips, I believe hyaluronic acids (HA) are the best choices. They effectively and naturally correct deficiencies and are the safest products available. Both Restylane® and JUVÉDERM® dermal fillers are HAs and each manufacturer offers multiple choices with variable characteristics that the injector will apply for maximal improvement.
What should I do (or avoid) in order to maintain the longest-lasting results possible for dermal fillers?
Product choices for the various forms of HAs always consider at least two factors: 1) the natural correction of the perceived problem at hand; and 2) the expected longevity of the product. Larger molecular products usually last longer than smaller molecules, but they are generally less accurate in correcting the volume defect. The consultant will help choose the best balance between these options.
Laser Treatments
Is there anything I should do (or avoid doing) before undergoing Lumenis UltraPulse® Encore laser skin rejuvenation?
The effectiveness of a Lumenis UltraPulse® Encore treatment is hindered by the amount of skin pigmentation. Therefore, for those who are tanned, rendering a treatment at times of the year when sun exposure is at a minimum, like winter, is often the preferred season. Of course, tanning booths should always be avoided before a skin laser treatment as well.
Would you like to learn more about non-surgical cosmetic enhancement options available at our practice? Please contact Dr. Okamoto today!