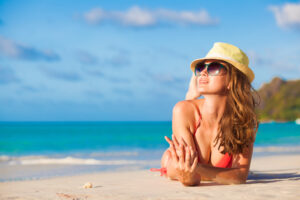 As time goes on, natural processes – such as gravity, aging, pregnancy, genetics, and changes in weight – can cause a myriad of aesthetic breast concerns for women. Sagging and a natural loss of shape, volume, and firmness are usually the unfortunate result of these forces and can significantly change the way a woman's breasts look and feel. While there are plenty of procedures available that correct these common concerns respectively, for certain women, a simple solution may exist in the form of a single, comprehensive surgery designed to address a number of aesthetic breast issues in one procedure. A breast lift with implants – also referred to as a breast augmentation mastopexy – is an operation that lifts breasts to a higher position on the chest wall, while simultaneously improving breast shape and increasing volume. Because a breast lift alone is not designed to enlarge the breasts in any noticeable way, a breast lift with the addition of implants can be an effective method of achieving fuller, firmer, and more shapely breasts all at once.
Our board-certified plastic surgeon, Eric Okamoto, MD is pleased to offer this combined breast enhancement and rejuvenation option for women seeking enhanced volume and more youthful-looking breasts. Often, women who have had children find a breast augmentation mastopexy ideal for offsetting the common side effects of pregnancy that can be hard on the female body. Key advantages of a breast lift with implants procedure typically include:
Removal of excess skin that may make breasts appear droopy
Tighter, elevated breasts and nipples that correct a common condition called breast "ptosis," wherein breasts sag over time
Enhanced fullness and volume of breasts
Improved projection and position of breasts
Improved firmness and smoothness of breasts
Correction of asymmetry that may exist in the breasts
Dr. Okamoto understands that each patient is different and he tailors each procedure to his patients' individual goals and needs. To provide the best treatment plan, an initial consultation will take place to determine which procedure is best suited to the results you desire. During the consultation, Dr. Okamoto can also establish expectations, discuss potential risks, and answer any questions about the procedure.
To learn more about breast lift with implants, please contact our office today for an initial consultation.