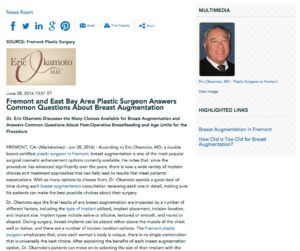 Dr. Eric Okamoto discusses the many choices available for breast augmentation and answers common questions about post-operative breastfeeding and age limits for the procedure.
Fremont, CA – According to Eric Okamoto, MD, a double board-certified plastic surgeon in Fremont, breast augmentation is one of the most popular surgical cosmetic enhancement options currently available. He notes that, since the procedure has advanced significantly over the years, there is now a wide variety of implant choices and treatment approaches that can help lead to results that meet patients' expectations. With so many options to choose from, Dr. Okamoto spends a good deal of time during each breast augmentation consultation reviewing each one in detail, making sure his patients can make the best possible choices about their surgery.
Dr. Okamoto says the final results of any breast augmentation are impacted by a number of different factors, including the type of implant utilized, implant placement, incision location, and implant size. Implant types include saline or silicone, textured or smooth, and round or shaped. During surgery, breast implants can be placed either above the muscle of the chest wall or below, and there are a number of incision location options. The Fremont plastic surgeon emphasizes that, since each woman's body is unique, there is no single combination that is universally the best choice. After explaining the benefits of each breast augmentation option, Dr. Okamoto's patients can move on to selecting the size of their implant with the assistance of before-and-after photos and sample implants that can be worn to get a visual image of possible results.
The ability to breastfeed after breast surgery as well as age limitations for the procedure are two common concerns Dr. Okamoto's patients at the Fremont plastic surgery practice often express. When it comes to breastfeeding after breast augmentation, Dr. Okamoto says that, as long as an individual is already able to breastfeed before the surgery and the appropriate technique is utilized, it is highly unlikely that breast augmentation will affect her ability to post-operatively breastfeed. However, he adds that only a certain percentage of women are able to naturally breastfeed, regardless of whether they have breast surgery or not.
The age of his patients is generally not a major concern, says Dr. Okamoto, noting that age itself does not affect the success of breast augmentation. The overall health of the patient is much more important than the age. As long as a patient is healthy with no pre-existing medical conditions that might compromise the procedure or the results of the surgery, Dr. Okamoto says that many women will be candidates for breast augmentation—whether they are in their 20s, their 50s, or older.
Ultimately, Dr. Okamoto says, women who are considering breast augmentation should talk with their primary care physicians about their plans and then consult with an experienced, board-certified plastic surgeon who can discuss the techniques that are ideal for their needs and goals.
About Eric Okamoto, MD
Dr. Eric Okamoto earned his medical degree from UCLA. He underwent specialty training in Otolaryngology at Stanford University before continuing on at the University of Wisconsin in Madison to train in plastic surgery. Dr. Okamoto is board certified by the American Board of Plastic Surgery and the American Board of Otolaryngology. He is a member of many professional medical organizations, including the American Society for Aesthetic Plastic Surgery, the American Society of Plastic Surgeons, the American Medical Association, and the American Society for Laser Medicine and Surgery. Dr. Okamoto is available for interview upon request.
For more information about Fremont Plastic Surgery, visit drokamoto.com and facebook.com/drokamoto.
Contact:
Fremont Plastic Surgery
39380 Civic Center Drive, Suite B
Fremont, CA 94538
(866) 514-7155
Rosemont Media
(858) 200-0044
www.rosemontmedia.com