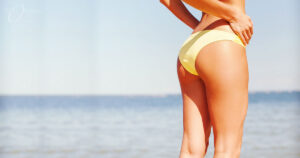 Cellulite is a very common condition that can cause the appearance of "dimples" and depressions on the skin. It affects an estimated 85% of women and about 10% of men. While treatments for cellulite have been around in various forms for many years, it can often be difficult to find one that is effective for most individuals. Fortunately, with advances in cellulite treatment techniques, that may be changing. Here at the practice of Dr. Eric Okamoto, we are excited to bring our patients a new option to reduce signs of cellulite and give the skin a smoother appearance: it's called Cellfina™.
Cellfina™ is a minimally-invasive treatment that can be performed right here at our office and typically does not require excessive downtime for recovery. This innovative procedure can diminish the appearance of dimples and other signs of cellulite by going right to the source of what is causing them: the fibrous bands under surface tissues that are pulling the skin down in specific areas. Cellfina® can release those bands and provide the skin with a more even and smooth look. Cellfina™ has shown to have remarkable results for a large majority of patients and offers one of the most effective modalities for treating cellulite that has been seen in quite some time.
Please take a moment to view before-and-after photos and learn more about Cellfina™ here. If you would like more information on this advanced treatment, or if you would like to schedule a consultation with Dr. Eric Okamoto, please contact us today.