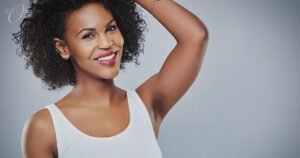 Even with daily use of antiperspirants and deodorants, many people experience excessive sweating under the armpits. This is very common and it can be such a problem that it affects an individual's overall quality of life, ultimately causing embarrassment and self-consciousness in professional and social situations. A new non-surgical treatment called miraDry®, available from Dr. Eric Okamoto, can dramatically reduce sweating in the underarms as well as unpleasant odors that emanate from these areas.
miraDry® is an advanced technique can help patients who suffer from excessive underarm sweat as well as those who simply don't want to deal with the daily rituals involved in controlling underarm sweat. miraDry® utilizes heat energy to eliminate a majority of sweat and odor glands in the armpits. The treatment typically lasts about an hour. Most individuals experience little to no discomfort during the procedure and are able to resume normal daily routines very soon. Variable symptoms of underarm discomfort might persist for several weeks, but they usually don't rise to a level where they interfere with work or exercise.
miraDry® offers patients a way to address excessive underarm sweat and odor with long-lasting results. In fact, the effects are likely permanent. You can read more about miraDry® here. For more information, or to schedule a consultation with Dr. Okamoto, please contact our practice today.