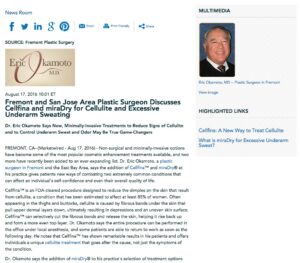 Dr. Eric Okamoto says new, minimally-invasive treatments to reduce signs of cellulite and to control underarm sweat and odor may be true game-changers.
Fremont, CA – Non-surgical and minimally-invasive options have become some of the most popular cosmetic enhancement treatments available, and two more have recently been added to an ever-expanding list. Dr. Eric Okamoto, a plastic surgeon in Fremont and the East Bay Area, says the addition of Cellfina™ and miraDry® at his practice gives patients new ways of combating two extremely common conditions that can affect an individual's self-confidence and even their overall quality of life.
Cellfina™ is an FDA-cleared procedure designed to reduce the dimples on the skin that result from cellulite, a condition that has been estimated to affect at least 85% of women. Often appearing in the thighs and buttocks, cellulite is caused by fibrous bands under the skin that pull upper dermal layers down, ultimately resulting in depressions and an uneven skin surface. Cellfina™ can selectively cut the fibrous bands and release the skin, helping it rise back up and form a more even top layer. Dr. Okamoto says the entire procedure can be performed in the office under local anesthesia, and some patients are able to return to work as soon as the following day. He notes that Cellfina™ has shown remarkable results in his patients and offers individuals a unique cellulite treatment that goes after the cause, not just the symptoms of the condition.
Dr. Okamoto says the addition of miraDry® to his practice's selection of treatment options offers patients yet another minimally-invasive way to tackle a common problem: excessive underarm sweat. Many people find that liberal use of deodorants and antiperspirants don't guarantee that they can get through the day without sweat or odors making for a potentially embarrassing situation. Dr. Okamoto says miraDry® can address this common concern by utilizing thermal energy to reduce a large number of sweat and odor glands from the underarms. He explains that miraDry® offers patients a long-lasting, perhaps even permanent, way to diminish sweat and odor from the underarms, thereby decreasing the need for antiperspirants and deodorants. Dr. Okamoto says that the procedure involves no incisions or needles and can typically performed as a relatively quick, in-office treatment. He also notes that, for most patients, miraDry® treatment causes little to no discomfort, and it's not uncommon for individuals to resume work immediately after the procedure.
With continuous advances in the field of cosmetic enhancement, Dr. Okamoto says people have more choices than ever to address conditions such as cellulite and excessive sweating without having to undergo invasive surgery or long recovery times. He believes procedures such as Cellfina™ and miraDry® can ultimately help solve problems that, for many individuals, have a significant effect on their self-esteem.
About Eric Okamoto, MD
Dr. Eric Okamoto is certified by the American Board of Plastic Surgery and the American Board of Otolaryngology. He has been recognized as a Top Doctor by Castle Connolly Medical Ltd. After earning his medical degree from the University of California-Los Angeles, Dr. Okamoto attained specialty training in Otolaryngology at Stanford University, followed by his training in plastic surgery at the University of Wisconsin in Madison. Dr. Okamoto is a member of the American Society of Plastic Surgeons, the American Society for Aesthetic Plastic Surgery, the American Society for Laser Medicine and Surgery and many other medical organizations. His practice offers a comprehensive range of both plastic surgery and minimally-invasive procedures for the body, face, and skin. Dr. Okamoto is available for interview upon request.
For more information about Fremont Plastic Surgery, visit drokamoto.com and facebook.com/drokamoto.
Contact:
Fremont Plastic Surgery
39380 Civic Center Drive, Suite B
Fremont, CA 94538
(866) 514-7155
Rosemont Media
(858) 200-0044
www.rosemontmedia.com