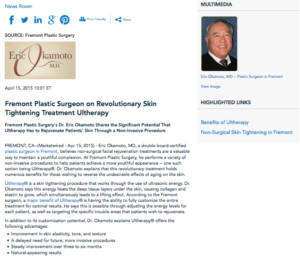 Fremont Plastic Surgery's Dr. Eric Okamoto shares the significant potential that Ultherapy has to rejuvenate patients' skin through a non-invasive procedure.
Fremont, CA – Eric Okamoto, MD, a double board-certified plastic surgeon in Fremont, believes non-surgical facial rejuvenation treatments are a valuable way to maintain a youthful complexion. At Fremont Plastic Surgery, he performs a variety of non-invasive procedures to help patients achieve a more youthful appearance – one such option being Ultherapy®. Dr. Okamoto explains that this revolutionary treatment holds numerous benefits for those wishing to reverse the undesirable effects of aging on the skin.
Ultherapy® is a skin tightening procedure that works through the use of ultrasonic energy. Dr. Okamoto says this energy heats the deep tissue layers under the skin, causing collagen and elastin to grow, which simultaneously leads to a lifting effect. According to the Fremont surgeon, a major benefit of Ultherapy® is having the ability to fully customize the entire treatment for optimal results. He says this is possible through adjusting the energy levels for each patient, as well as targeting the specific trouble areas that patients wish to rejuvenate.
In addition to its customization potential, Dr. Okamoto explains Ultherapy® offers the following advantages:
Improvement in skin elasticity, tone, and texture
A delayed need for future, more invasive procedures
Steady improvement over three to six months
Natural-appearing results
Dr. Okamoto has found Ultherapy® to provide excellent results to patients at his Fremont plastic surgery practice. He encourages anyone interested in non-surgical rejuvenation to discuss their goals and needs with a board-certified plastic surgeon to discover the most beneficial solution for their unique needs.

About Eric Okamoto, MD
Dr. Okamoto is board certified by the American Board of Plastic Surgery and the American Board of Otolaryngology. He earned his medical degree from UCLA and then underwent specialty training in Otolaryngology at Stanford University. Dr. Okamoto continued to the University of Wisconsin in Madison to train to become a plastic surgeon. He remains an active part of the medical community through his memberships in numerous professional organizations, including the American Society of Plastic Surgeons, the American Society for Aesthetic Plastic Surgery, and the American Society for Laser Medicine and Surgery. Dr. Okamoto is available for interview upon request.
For more information about Fremont Plastic Surgery, visit drokamoto.com and facebook.com/drokamoto.
Contact:
Fremont Plastic Surgery
39380 Civic Center Drive, Suite B
Fremont, CA 94538
(866) 514-7155

Rosemont Media
(858) 200-0044
www.rosemontmedia.com