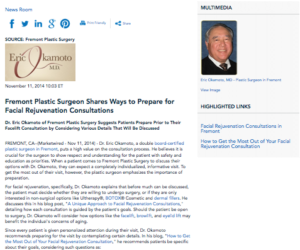 Dr. Eric Okamoto of Fremont Plastic Surgery suggests patients prepare prior to their facelift consultation by considering various details that will be discussed.
Fremont, CA – Dr. Eric Okamoto, a double board-certified plastic surgeon in Fremont, puts a high value on the consultation process. He believes it is crucial for the surgeon to show respect and understanding for the patient with safety and education as priorities. When a patient comes to Fremont Plastic Surgery to discuss their options with Dr. Okamoto, they can expect a completely individualized, informative visit. To get the most out of their visit, however, the plastic surgeon emphasizes the importance of preparation.
For facial rejuvenation, specifically, Dr. Okamoto explains that before much can be discussed, the patient must decide whether they are willing to undergo surgery, or if they are only interested in non-surgical options like Ultherapy®, BOTOX® Cosmetic and dermal fillers. He discusses this in his blog post, "A Unique Approach to Facial Rejuvenation Consultations," detailing how each consultation is guided by the patient's goals. Should the patient be open to surgery, Dr. Okamoto will consider how options like the facelift, browlift, and eyelid lift may benefit the individual's concerns of aging.
Since every patient is given personalized attention during their visit, Dr. Okamoto recommends preparing for the visit by contemplating certain details. In his blog, "How to Get the Most Out of Your Facial Rejuvenation Consultation," he recommends patients be specific about their goals, considering such questions as:
Do you want to address certain areas in particular?
Do you want a generally younger-looking appearance?
What do you hope to specifically achieve?
By knowing these details ahead of time, Dr. Okamoto can better understand the results the patient hopes to attain, which ultimately leaves more time in the consultation for learning about the procedures that can best help them reach their ideal outcome.
About Eric Okamoto, MD
Dr. Okamoto is board certified by the American Board of Plastic Surgery and the American Board of Otolaryngology. He earned his medical degree from UCLA and completed his specialty training at Stanford University in otolaryngology, focusing on the ear, nose, and throat. Dr. Okamoto then underwent plastic surgery training at the University of Wisconsin. He is a member of the American Society of Plastic Surgeons, the American Society for Aesthetic Plastic Surgery, the American Society of Bariatric Plastic Surgeons, and many other professional organizations. Dr. Okamoto is available for interview upon request.
For more information about Fremont Plastic Surgery, visit drokamoto.com and facebook.com/drokamoto.
Contact:
Fremont Plastic Surgery
39380 Civic Center Drive, Suite B
Fremont, CA 94538
(866) 514-7155
Rosemont Media
(858) 200-0044
www.rosemontmedia.com